Dive Trips and PADI Courses in Koh Samui Island

We guarantee the lowest prices for diving on Koh Samui! If you find a better price than ours, for a similar offer, we will give you an additional discount! 
Diving tours from Koh Samui to Koh Tao Island for beginners and certified divers

PADI Courses on Koh Samui with accommodation
 More Scuba Diving Courses on Koh Samui Island

Why "Scuba Birds"?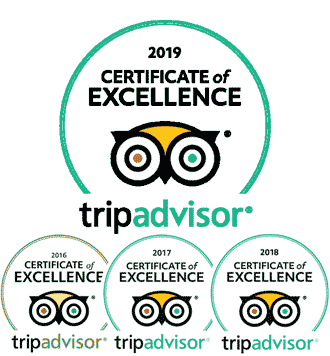 Certificates of Excellence for 2016 - 2019 and 99% positive reviews on the TripAdvisor
- Since 2007
- International status PADI 5 Star IDC Dive Center is a guarantee of quality and safety
- Own comfortable dive boat, compressor, and equipment: full control of safety
- Small groups 
- Special discount for online bookings
- 0% extra charge for PayPal or Credit card payment
- Free cancellation until 09:00 pm the day before (charged ฿500 after 09:00 pm)
- Friendly, experienced and qualified PADI instructors

Diving Koh Samui - Day Tour Schedule

6:30 am - 7:15 am: Transfer from the hotel by minibus to the pier of the High-Speed Catamaran "Lomprayah"
8 am - 10 am: Lomprayah high-speed catamaran trip from Koh Samui to Koh Tao island
10 am - 10:15 am: Meeting your instructor on Koh Tao and departing for a diving day on our dive boat
10:15 am - 11 am: Briefing before the 1st dive
11 am -12 pm: First dive
12 pm - 1 pm: Lunch on the dive boat and rest
1 pm - 2 pm: Second dive
2:30 pm - 3 pm: Return to Koh Tao Island, check-in to the High-Speed Catamaran "Lomprayah"
3 pm - 5 pm: Lomprayah high-speed catamaran trip from Koh Tao to Koh Samui
5 pm - 6 pm: Transfer from the pier to your hotel

Please feel free to contact us:
This email address is being protected from spambots. You need JavaScript enabled to view it.

Follow us:
Find us:

Book your diving now
No payments needed!
How
 does this
 work?
1. Choose a package and submit the form. 
2. We will contact you within one business day
3. Сonfirm your reservation 2-3 days before
4. Enjoy diving!