Diving Koh Tao - COVID-19 special discount up to 38%
Due to Covid-19 pandemic, the "Scuba Birds" PADI 5-star IDC Dive Center on Koh Tao offers special prices for 2020-2022. Book diving now and get up to 38% discount on PADI Courses and diving programs. No deposit and prepayment required!
Diving  Koh Tao, discount up to 38% - More info >>

PADI Scuba Diver course for beginners on Koh Tao Island
 Koh Tao PADI Scuba Diver Course is a two-day diving course for beginners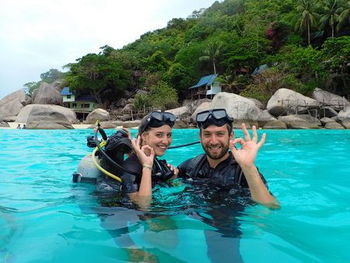 After completing this course, you will receive an international PADI diver certificate and will be able to dive to a depth of no more than 12 meters, under the guidance of a PADI professional anywhere in the world. This course is perfect for those who plan to dive infrequently, mainly during the holidays.
About PADI Scuba Diver Course
Duration: from 2 days
Minimum age: 10 years (for PADI Scuba Diver Junior Certification)
Limitations: absence of any medical conditions (download medical statement here)
Regular price: ฿8,500
Book now: ฿6,990
Discount: 18%
PADI Scuba Diver Course Packages on Koh Tao:
Attention!
During Covid-19, prices for packages with accommodation are also reduced. Contact us for the latest information
- 5 packages with and without accommodation
- 20 accommodation options in three different hotels
The cost of the packages with accommodation: from 8,900 THB
See the packages details
Сhoose the best option for you and save up to 3,900 THB!
The cost of the PADI Scuba Diver Course includes:
Training materials (digital manual and dive tables)
International PADI Diver Certificate
Equipment Rental
Tea, coffee, fruits and light snacks on our dive boat
"Scuba Birds" Logbook (personal diver's book to log your dives)
Free WiFi on the boat & classrooms
Insurance
Additionally in packages:
Accommodation in a fan or air-conditioned room or bungalow 
Underwater photo/video (Package includes an additional SD card with your underwater photos/short videos from two last dives in open water)
What does your training for PADI Scuba Diver course include?
Theoretical part
You will need to read through 3 chapters of the PADI Open Water Diver manual, which can be supplemented by watching 3 parts of the training video. After that, you will need to complete 3 knowledge reviews and 3 tests related to the 3 chapters you studied.
Practical part
Practice includes 3 confined water sessions*. During those sessions you will master basic safe scuba diving and equipment setup skills under the guidance of the PADI Instructor. The next day you will complete 2 dives in the open water as you demonstrate previously acquired skills in conditions that replicate real dives. At the end of each dive you will take an underwater tour and enjoy the underwater world of tropical coral reefs.
*Confined water is a general term that refers to either a swimming pool or an open water site that offers swimming pool-like conditions in regard to clarity, calmness, and depth. It has both shallow water and sufficiently deep water to allow student divers to meet all of the skill performance requirements.
PADI Scuba Diver course — detailed course description
Continuing diving education
After completing the PADI Scuba Diver course you can upgrade your certificate to PADI Open Water Diver at any time. To do this you will need to study the 2 remaining theoretical modules in the PADI Open Water Diver manual, pass a final exam, complete confined sessions 4 and 5, and 2 open water dives.