Learn to dive in Thailand — Emergency First Response course: first aid training
Emergency First Response — Emergency response and first aid.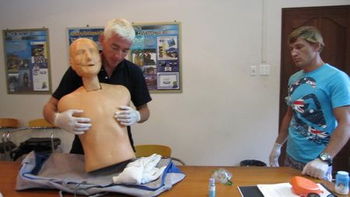 This course is not a diving course. However, all the knowledge and skills can be useful in everyday life. This course is also a prerequisite for the PADI Rescue Diver course.
The course was developed based on the Basic Life Support Guidelines, submitted by the International Liaison Committee on Resuscitation.
During the EFR course you will learn how to act in emergency situations and provide first aid. Training is conducted in an interesting and cognitive manner.
You will learn the main resuscitation techniques by watching a special training video for the EFR course.
Under the guidance of your instructor you will study and demonstrate the skills of providing primary and secondary medical care, and also take part in several scenarios simulating an emergency event where you will act as a rescuer.

Course prerequisites
Minimum age: none
Limitations: None
Duration: 1 day
The cost of the program:
Emergency First Response course on Koh Samui: EFR + PADI Rescue Diver Course: 4,500 THB + 13,500 THB = 18,000 THB  4,000 THB + 11,500 THB = 15,500 THB. You save 14%!
Emergency First Response course on Koh Tao:  4,000 THB

Prices are valid only when you book on our website!
Continuing diving education
The next step is to take the PADI Rescue Diver course.