Diving Koh Phangan - COVID-19 special discount up to 30%
Due to Covid-19 pandemic, the "Scuba Birds" PADI 5-star IDC Dive Center on Koh Phangan Island offers special prices. Book diving now and get up to 30% discount on PADI Courses and Diving Tours. No deposit and prepayment required!


Diving  Koh Phangan, discount up to 30% - More info >>

Emergency First Response Course on Koh Phangan Island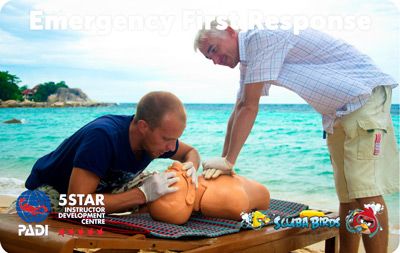 Koh Phangan Emergency First Response Course - first aid and CPR training
Emergency First Response (EFR) Course on Koh Phangan Island - is not a Scuba Diving Course. However, all knowledge and skills can be useful in everyday life. This course is also a prerequisite for the PADI Rescue Diver course.
The course development is based on the Basic Life Support Guidelines, submitted by the International Liaison Committee on Resuscitation ILCOR 2000 (International Liaison Committee on Resuscitation).
During the EFR course you will learn how to act in emergency situations and provide first aid. Training is conducted in an interesting and cognitive manner.
You will learn the main resuscitation techniques by watching a special training video for the EFR course.
Under the guidance of your instructor you will learn and practice the skills to provide primary and secondary medical care, and also take part in several scenarios simulating an emergency event where you will act as a rescuer.
About Emergency First Responce Course
Duration: 1 day
Minimum age: None
Limitations: None
Regular price: ฿4,500
Book now: ฿3,500
Discount: 22%
EFR + PADI Rescue Diver Package 
Regular price: ฿17,000
Book now: ฿12,690
Discount: 25%
Attention! The practical part of the course will be conducted on Koh Tao as there are no dive sites around Koh Phangan. For your convenience and to save time on transfers between Koh Phangan and Koh Tao, the cost of your stay on Koh Tao for the duration of training is included in the course price.

Emergency First Response course — details
The price of the Package EFR + PADI Rescue Diver Courses includes:
Training materials
International PADI Diver Certificate
Equipment rental
Tea, coffee, fruits and light snacks on our dive boat
Insurance
Continuing Scuba Diving Education
The next step in your continuing education is to become a PADI Master Scuba Diver. This is the highest level of recreational diving. You can also become a PADI professional with PADI Divemaster course.