For certified divers - 1 day

Koh Samui Diving Tours for certified divers to Koh Tao Island
One-day Diving Tour with 2 dives and lunch - Best dive sites around Koh Tao Island!
At the moment one day Diving Tour to Koh Tao Island temporary is not available. Apologies for any inconvenience.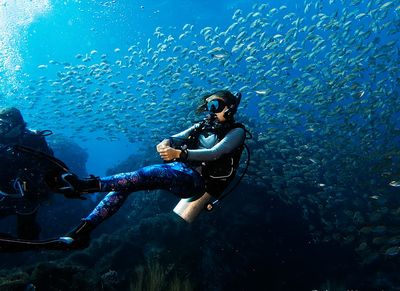 A one-day diving tour from Koh Samui to Koh Tao is available for certified divers. Dives will be conducted around Koh Tao — the most popular diving spot in Thailand. There are about 30 dive sites around Koh Tao. We can reach most of them on our dive boat within 20–45 minutes. All of the dive sites have their own beauty and distinction with a depth variety of between 12 to 50 meters. Also you have the chance to dive one of 3 shipwrecks such as HTMS «Sattakut», M.V. «Trident» and «Unicorn». This will be interesting for both beginners and experienced divers.
For your non-diving friends and family members we will offer a snorkeling tour on the same dive boat.
About One-Day Diving Tour on Koh Samui
Duration: One day 
Minimum age: 10 years
Limitations: certified divers only
Regular price: ฿3,500 / 2 dives 
Book now: ฿2,990 / 2 dives
Discount: 12%
*We guarantee the lowest prices for diving on Koh Samui! If you find a better price than ours, for a similar offer, we will give you an additional discount!
One-Day Diving Tour includes:
2 dives
Equipment rental
Dive guide (PADI Instructor)
Lunch, tea, coffee, fruits and snacks on the boat
Insurance
Is two dives not enough? Two-Day Diving Tour from Koh Samui to Koh Tao with 4 dives & accommodation.
No diver certificate? PADI Discover Scuba Diving programme for beginners & Non certified divers.
One day dive tour schedule from Koh Samui:
6:30 am — 6:45 am: Transfer from your hotel to the Lomprayah high-speed catamaran pier
8 am — 10 am: Lomprayah high-speed catamaran trip from Samui to Koh Tao
10 am — 10:15 am: Meeting your instructor at Koh Tao and departing for a diving day on our dive boat
10:15 am — 11 am: Briefing before the dive
11 am — 12 pm: First dive
12 pm — 1 pm: Lunch on the dive boat and rest
1 pm — 2 pm: Second dive
3 pm — 5 pm: Lomprayah high-speed catamaran trip from Koh Tao to Samui
5 pm — 6 pm: Transfer to your hotel.