Diving Koh Samui - COVID-19 special discount up to 31%
Due to Covid-19 pandemic, the "Scuba Birds" PADI 5-star IDC Dive Center on Koh Samui Island offers special prices for 2021-2022. Book diving now and get up to 31% discount on PADI Courses and diving tours. No deposit and prepayment required!


Diving  Koh Samui, discount up to 31% - More info >>

Diving Koh Samui - PADI Courses and Diving Tours on Koh Samui Island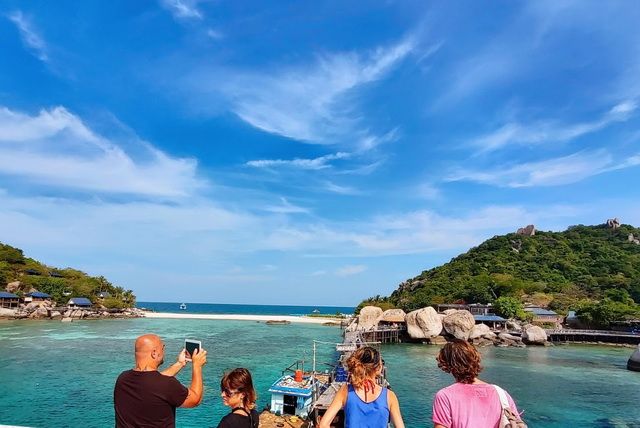 Scuba Diving Koh Samui - Low price & Good choice!
Diving Koh Samui - is very popular among other outdoor activities. Koh Tao Island, also called the "Mecca of Diving in Thailand", is located 60 km to the north. That is why diving tours to this island are offered in almost all excursion programs.
Koh Samui is a popular holiday destination in Thailand located in the southeastern part of the Gulf of Thailand. Developed tourist infrastructure, excellent sandy beaches and a short (only about a month a year) rainy season make Samui such a popular place. Koh Samui offers tourists many different types of recreation and entertainment.
«Scuba Birds» - PADI 5-star IDC Dive Center on Koh Samui Island
"Scuba Birds" Dive Center has the highest PADI rating - PADI 5 Star IDC Diving Center. We have been operating since 2007 and are the leaders of the diving industry on Koh Samui. Since then thousands of people have taken diving training courses with us, completed their first "Try diving" program or participated in our programs of dive tours to Koh Tao.

Koh Samui Diving Tours
We offer One-Day and Two-Days diving tours for beginners and experienced divers from Koh Samui to Koh Tao's most favorite dive sites. Any other duration of the tour is available upon request, just ask us.
Why is it better to stay in Koh Tao? There are 30 dive spots around Koh Tao, including 3 Shipwrecks. The average time to get any dive site is just about 20 minutes. The way from Samui takes more than 3 hours. To save your time on traveling and spend more time on actual diving, we strongly recommend you to stay on Koh Tao if you are going to spend more than only one day for diving.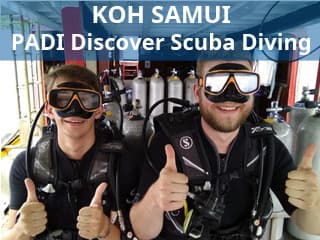 PADI Discover Scuba Diving
Diving Tour to Koh Tao Island for beginners (NON-Certified divers) with 2 dives & lunch
฿4,500
฿3,990
Discount 11%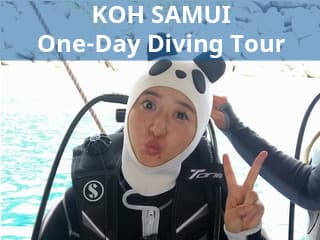 Koh Samui One-Day Diving Tour
Diving Tour from Koh Samui to Koh Tao Island for certified divers with 2 dives & lunch
฿3,500
฿2,990
Discount 15%
All Diving Tours on Koh Samui includes:
Equipment rental
Tea, coffee, fruits, and snacks on the boat
Insurance
Koh Samui Scuba Diving Courses
A full range of PADI courses from beginners to PADI professional. For all PADI courses practical applications will be conducted on Koh Tao island, because there are no dive sites around Koh Samui. For your convenience and to minimize travel time between the two islands, accommodation on Koh Tao for course duration is included in the price.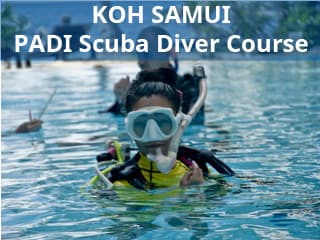 PADI Scuba Diver Course
2-Days Diving Course for beginners with accommodation
from ฿12,500
from ฿8,990
Discount up to 31%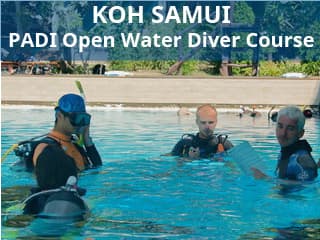 PADI Open Water Diver Course
3-Day Diving Course for beginners with accommodation
from ฿14,500
from ฿10,990
Discount up to 30%
More PADI courses on Koh Samui >>
All Diving Courses on Koh Samui includes:
Training materials on your language
International PADI diver E-certificate
Equipment rental
Tea, coffee, fruits and snacks on the boat
Logbook (for beginners courses only)
Insurance
"SCUBA BIRDS" REVIEWS
Short video reviews 2021
60 sec., 4 reviews and 5 satisfied customers
More Reviews & Video on Youtube
TripAdvisor Reviews
Professional and friendly
We took a refresher course and 2 fun dives with Dominik and loved it. Dominik is highly professional, calm, and detailed oriented. He made us feel at ease and safe. I'd highly recommend... Read more
Great Experience
Have literally just dived here today and what a lovely time we had! Took on the introduction dive and fully plan on a 2 day course at some point. Dima was great at organising everything over whatsapp... Read more
Family Friendly
Scuba birds was fantastic. We took our two children, 13 and 10 (already certified) for a fun dive off Koh Tao. The staff were extremely professional, safety oriented and child friendly. The dives were extremely well managed... Read more
❮
❯
12 reasons why "Scuba Birds" Dive Center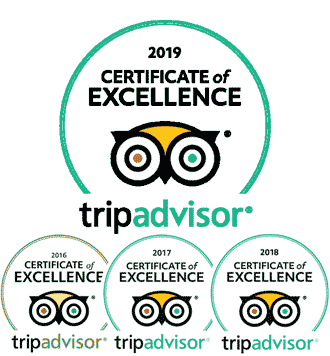 Scuba Birds Dive Center have 99% positive reviews on the TripAdvisor