Koh Samui PADI Scuba Diver Course for beginners
PADI Scuba Diver course for beginners (2 nights accommodation included)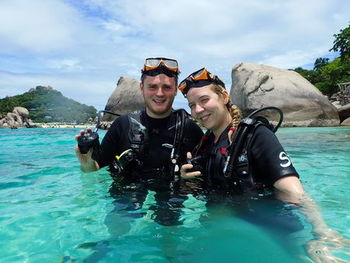 After completing this course, you will receive an international PADI diver certificate and will be able to dive to a depth of no more than 12 meters, under the guidance of a PADI professional anywhere in the world. This course is perfect for those who plan to dive infrequently, mainly during the holidays.
PADI Scuba Diver course on Koh Samui — the best price guaranteed!*
Maximum depth: 12 m.
Minimum age: 10 years
Duration: 2 days (2 nights)
Limitations: absence of any medical conditions (download medical statement here)
Regular price: ฿13,700
Book now: ฿9,990
Discount: 28%
Share your experience with your friend for ฿9,190 each!
*We guarantee the lowest prices for diving on Koh Samui! If you find a better price than ours, for a similar offer, we will give you an additional discount!
The practical part of the course will be conducted on Koh Tao as there are no dive sites around Koh Samui. For your convenience and to save your time, transfer by High-Speed Catamaran to Koh Tao island and back, and the cost of your accommodation on Koh Tao for the duration of course is included in the price.
The cost of the course includes:
eLearning
International PADI Diver Certificate
Equipment rental
Tea, coffee, fruits and light snacks on our dive boat
Logbook (personal diver's book to log your dives)
What does your training for PADI Scuba Diver course include?
Theoretical part
You can complete the theory part before arriving at Koh Tao. To get the link to your personal eLearning materials we do ask deposit payment in amount of ฿2,000
You can start your theoretical studies on Koh Samui, where you will receive educational materials and all the necessary instructions to use them in advance.
You will need to read through 3 chapters of the PADI Open Water Diver manual, which can be supplemented by watching 3 parts of the training video. After that you will need to complete 3 knowledge reviews and 3 tests related to the 3 chapters you studied.
Practical part
As has been mentioned above, the entire practical part of the course will take place on Koh Tao. Practice includes 3 confined water sessions*. During those sessions you will master basic safe scuba diving and equipment setup skills under the guidance of the PADI Instructor. The next day you will complete 2 dives in the open water, demonstrating previously learned skills in conditions that replicate real dives. At the end of each dive you will take an underwater tours and enjoy the underwater world of tropical coral reefs.
**Confined water is a general term that refers to either a swimming pool or an open water site that offers swimming pool-like conditions in regard to clarity, calmness, and depth. It has both shallow water and sufficiently deep water to allow student divers to meet all of the skill performance requirements.
PADI Scuba Diver course — detailed course description
PADI Scuba Diver course schedule
If you have successfully completed eLearning in advance, then you can skip theory part of the schedule:
First day:
6-30 am - 6-50 am: Transfer (minivan) from your hotel to the Lomprayah High-Speed Catamaran pier.
8 am - 10 am: High-Speed Catamaran ferry from Koh Samui to Koh Tao
10 am: Meeting with your instructor on Koh Tao in Dive Center, paper work, equipment preparation,
payment, theory
1 pm - 6 pm: Pool or confined water: skills practice
6 pm - 7 pm: Theory
Second day:
10 am: Meeting with your instructor on Koh Tao in Dive Center, theory
12-30 pm - 6 pm: Departure on our dive boat to 2 dives in open water, maximum depth is 12
meters.
Your PADI Scuba Diver Course is complete!
Third day:
This is a free day, you can return to Koh Samui by High-Speed catamaran Lomprayah departing from Koh Tao at 9:30 am or 3 pm.
Minivan will take you from the pier on Koh Samui to your hotel
Continuing diving education
After completing the PADI Scuba Diver course you can upgrade your certificate to PADI Open Water Diver at any time. To do this you will need to study the 2 remaining theoretical modules in the PADI Open Water Diver manual, pass a final exam, complete confined sessions 4 and 5, and 2 open water dives.
"SCUBA BIRDS" REVIEWS
Short video reviews
60 sec., 4 reviews and 5 satisfied customers
More Reviews & Video on Youtube
TripAdvisor Reviews
Professional and friendly
We took a refresher course and 2 fun dives with Dominik and loved it. Dominik is highly professional, calm, and detailed oriented. He made us feel at ease and safe. I'd highly recommend... Read more
Great Experience
Have literally just dived here today and what a lovely time we had! Took on the introduction dive and fully plan on a 2 day course at some point. Dima was great at organising everything over whatsapp... Read more
Family Friendly
Scuba birds was fantastic. We took our two children, 13 and 10 (already certified) for a fun dive off Koh Tao. The staff were extremely professional, safety oriented and child friendly. The dives were extremely well managed... Read more
❮
❯
Why "Scuba Birds" Dive Center?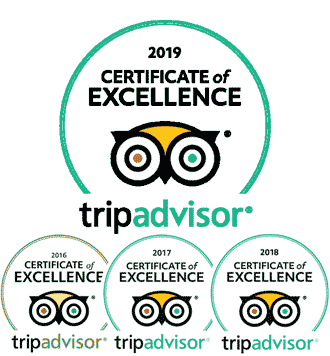 Scuba Birds Dive Center have 99% positive reviews on the TripAdvisor
TripAdvisorTravelers' Choice Award 2016-2020, 2023 (More than 600 reviews )
The highest PADI 5-star IDC Dive Center International Rating
Own big and comfortable diving boat, compressor, first aid kit, emergency oxygen - all for your safety and comfort
All range of PADI Courses from beginner to PADI Instructor
Small groups

Experienced PADI Instructors

Special discount for online booking
Professional and friendly PADI Instructors Team
Open since 2007