PADI Scuba Diver Course - 2-day Course for beginners in Thailand
PADI Scuba Diver Course Thailand on Koh Tao, Koh Samui and Koh Phangan Islands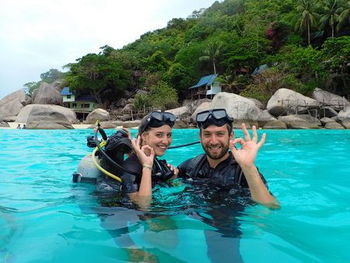 The PADI Scuba Diver course is perfect for those who plan to dive infrequently, mainly during the holidays or who рфму limited time for training. The Course can also be good for families with children who want to get a diver's certificate, but who do not want to spend too much time in a classroom.
After completing PADI Scuba Diver course, you will receive an international PADI diver certificate and will be able to dive to a depth of no more than 12 meters, under the guidance of a PADI professional anywhere in the world.
The PADI Scuba Diver course is halfway to the PADI Open Water Diver course. To obtain a certificate you must complete 3 out of 5 theoretical modules of the PADI Open Water Diver course, 3 out of 5 confined water modules and 2 out of 4 open water dives.
PADI Scuba Diver course in Thailand — book now!
Duration of training: 2 days
Prerequisites for the course: The minimum age is 10 years, absence of medical problems
PADI Scuba Diver Course - Prices and Schedule
PADI Scuba Diver Course on Koh Tao Island 
PADI Scuba Diver Course on Koh Samu Islandi
PADI Scuba Diver course on Koh Phangan Island
What does your training for PADI Scuba Diver course include?
Theoretical part
You will need to read through 3 chapters of the PADI Open Water Diver manual, which can be supplemented by watching 3 parts of the training video. After that, you will need to complete 3 knowledge reviews and 3 tests related to the 3 chapters you studied.

Practical part — confined water*
From simple to complex! Your training will begin in confined water* at a depth of about 1.5 meters. First, under the guidance of a PADI instructor, you will practice basic skills that will teach you how to clear water from your regulator and mask and use an alternative air source provided by your buddy.
You will also learn the basic skills associated with controlling your buoyancy, setting up the equipment, assisting tired divers and much more.
We will move from simple basic skills to more complex ones. After the session in confined water you will feel comfortable and safe underwater and know how to use your equipment, so that knowledge will make your dives interesting and safe. You will also learn to solve potential problems which might occur during the dive.
* Confined water is a general term that refers to either a swimming pool or an open water site that offers swimming pool-like conditions in regard to clarity, calmness, and depth. It has both shallow water and sufficiently deep water to allow student divers to meet all of the skill performance requirements
Practical part — open water
Next step is to dive in the open water. Your first dive will be an underwater tour. You apply previously acquired knowledge and skills to enjoy your scuba diving experience. During the next dive you will need to demonstrate at depth some of the skills you learned earlier and then you will have another underwater tour.
Continuing diving education
After completing the PADI Scuba Diver course you can upgrade your certificate to PADI Open Water Diver at any time. To do this you will need to study the 2 remaining theoretical modules in the PADI Open Water Diver manual, pass a final exam, complete confined sessions 4 and 5, and 2 open water dives.