PADI Advanced Open Water Diver
Diving Koh Tao - COVID-19 special discount up to 38%
Due to Covid-19 pandemic, the "Scuba Birds" PADI 5-star IDC Dive Center on Koh Tao offers special prices for 2020-2022. Book diving now and get up to 38% discount on PADI Courses and diving programs. No deposit and prepayment required!
Diving  Koh Tao, discount up to 38% - More info >>

PADI Advanced Open Water Diver Course on Koh Tao Island
Koh Tao PADI Advanced Open Water Diver Course is perfect for those who want to improve their diving skills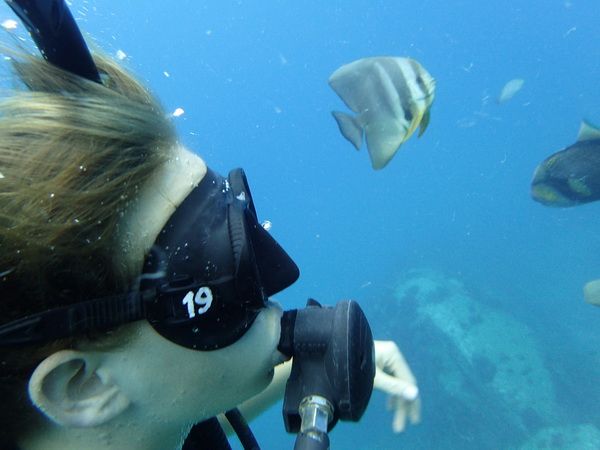 Would you like to gain more experience planning and performing dives? Do you wish to explore new types of underwater activities and dive deeper, longer and safer? Then the PADI Advanced Open Water Diver course is what you need! Learn and master new skills underwater, explore new activities by completing five specialized adventure dives, including deep (up to 30 meters), night and wreck dives!
About PADI Advanced Open Water Diver Course
Duration: 2 days
Minimum age: 12 years

Number of training dives: 5
Prerequisites: absence of any medical conditions and you must have the PADI Open Water Diver certificate or its equivalent
Regular price: ฿10,000
Book now: ฿7,980
Discount: 20%
PADI Advanced Open Water Diver Course Packages on Koh Tao:
Attention!
During Covid-19, prices for packages with accommodation are also reduced. Contact us for the latest information
- 5 packages with and without accommodation
- 20 accommodation options in three different hotels
See the packages details
Choose the best option for you and save up to 3,700 THB!
The cost of the PADI Advanced Open Water Diver Course includes:
Training materials (digital manual and dive tables)
International PADI Diver Certificate
Equipment Rental
Tea, coffee, fruits and light snacks on our dive boat
Free WiFi on the boat & classrooms
Insurance
Additionally in packages:
Accommodation in a fan or air-conditioned room or bungalow 
Underwater photo/video (Package includes an additional SD card with your underwater photos/short videos from two last dives in open water)
What does your training for PADI Advanced Open Water Diver course include?
Theoretical part
During your PADI Advanced Open Water Diver course less time will be devoted to the theoretical part, compared to the PADI Open Water Diver course, as you are already a certified diver and familiar with the basics of diving! You will need to read through 5 relevant chapters of the PADI Advanced Open Water Diver manual and complete the knowledge reviews related to those chapters. Before each adventure dive you will also receive a detailed briefing.
Practical part
There are 5 dives included in the course and 2 of those are mandatory:
Deep Dive
You will dive to a depth of 30 meters and learn how to control your air consumption while deep diving. During this training dive you will also learn about the risks associated with deep diving and the ways to manage them and emergency procedures and much more.
Underwater Navigation
You will improve your underwater navigation skills; learn how to use a dive compass and visual landmarks. You will also learn how to improve dive planning and air consumption which will help to increase dive safety.
Choose remaining 3 adventure dives of your choice based on your own interests in diving:
AWARE Fish Identification
For those who want to learn more about the underwater flora and fauna. You will identify different fish species, which will help enrich your diving experience.
Enriched Air (Nitrox)
Diving with enriched air (which contains a higher percentage of oxygen called Nitrox) will allow you to stay longer at depth, increasing your no decompression time.
Multilevel & Computer
You will learn how to plan your dives and stay longer underwater by increasing your no decompression limit, due to a special technique used for dive planning with the help of an underwater computer.
Night Dive
Discover the wonderful and beautiful underwater world during a night dive. You are unlikely to forget your first night dive.
Peak Performance Buoyancy
Improve your diving with simple and effective skills which will benefit your positioning in the midwater.
Search & Recovery
Lost something underwater or found something interesting? Learn the various techniques of underwater search and the skills of lifting objects from under the water with a special lifting bag.
Underwater Naturalist
Learn more about the life of coral reefs!
Wreck Diving
Learn how to dive wrecks safely. Shipwrecks, planes and much more are waiting for you under the water.
PADI Advanced Open Water Diver course — detailed description
Continuing diving education
After completing the PADI Advanced Open Water Diver course you will get a credit towards the relevant PADI specialty courses. You also can continue improving your skills by completing Emergency First Responder courses and PADI Rescue Diver course.