PADI Advanced Open Water Diver

Koh Samui PADI Advanced Open Water Diver Course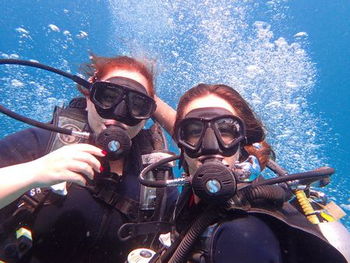 Koh Samui PADI Advanced Open Water Diver with accommodation 
PADI Advanced Open Water Diver is perfect for those who want to improve their diving skills and explore new underwater activities. Complete 5 adventure dives, including deep (up to 30 meters) and underwater navigation. The other three dives you can choose yourself.
About PADI Advanced Open Water Diver Course
Duration: 2 days
Minimum age: 10 years
Number of training dives: 5
Prerequisites: absence of any medical conditions and you must have the PADI Open Water Diver certificate or its equivalent
Regular price: ฿14,400
Book now: ฿9,980
Discount: 29%
Share your experience with your friend for ฿9,780 each!
*We guarantee the lowest prices for diving on Koh Samui! If you find a better price than ours, for a similar offer, we will give you an additional discount!
The practical part of the course will be conducted on Koh Tao as there are no dive sites around Koh Samui. For your convenience and to save time on transfers between Koh Samui and Koh Tao we have included the cost of your stay on Koh Tao for the duration of training in the course price.
The cost of the PADI Advanced Open Water Diver Cщurse includes:
Training materials
International PADI Diver Certificate
Equipment rental
Tea, coffee, fruits and light snacks on our dive boat
Insurance
What will you do on the PADI Advanced Open Water Diver course?
Theoretical part
You can complete the theory part before arriving at Koh Tao. To get the link to your personal eLearning materials we do ask deposit payment in amount of ฿2,000
You will need to read through the 5 relevant chapters of the PADI Advanced Open Water Diver manual and complete the knowledge reviews related to those chapters. Before each adventure dive you will also receive a detailed briefing.
Practical part
There are 5 dives included in the course and 2 of those are mandatory:
Deep dive
You will dive to a depth of 30 meters and learn how to control your air consumption when deep diving. During this training dive you will also learn about the risks associated with deep diving, ways to manage them, emergency procedures and much more.
Underwater Navigation
You will improve your underwater navigation skills, learn how to use a dive compass and spot visual landmarks. You will also learn how to improve dive planning and air consumption which will help to increase dive safety.
3 adventure dives of your choice based on your own interests in diving:
AWARE Fish Identification
For those who want to learn more about the underwater flora and fauna. You will identify the different fish species, which will help enrich your diving experience.
Enriched Air (Nitrox)
Diving with enriched air (which contains a higher percentage of oxygen called Nitrox) will allow you to stay longer at depth, increasing your no decompression time.
Multilevel & Computer
You will learn how to plan your dives and stay longer underwater by increasing your no decompression limit, due to a special technique used for dive planning with the help of an underwater computer.
Night Dive
Discover the wonderful and beautiful underwater world during a night dive. You are unlikely to forget your first night dive.
Peak Performance Buoyancy
Improve your diving with simple and effective skills which will benefit your positioning midwater.
Search & Recovery
Lost something underwater or found something interesting? Learn the various techniques of underwater search and the skills of lifting objects from water with a special lifting bag.
Underwater Naturalist
Learn more about the life of coral reefs!
Wreck Diving
Learn how to dive wrecks safely. Shipwrecks, planes and much more are waiting for you under the water.
PADI Advanced Open Water Diver course — detailed description
PADI Advanced Open Water Diver Course schedule
If you have successfully completed eLearning in advance, then you can skip theory part of the schedule:
First day:
6:30 am — 6:45 am: Transfer (minivan) from your hotel to the Lomprayah pier
8 am — 10 am: High-speed catamaran ferry from Samui to Koh Tao
10 am — 10:15 am: Meeting with your instructor on Koh Tao
10:15 am: Departure on our dive boat to one of the Koh Tao dive sites to perform the training dives (departure time may vary)
11 am — 12 pm: First training dive
12 pm — 1 pm: Rest on the dive boat, briefing before the next dive
1 pm — 2 pm: Second training dive
3 pm: Return to Koh Tao, accommodation check in, theory review in the classroom
Second day:
8 am: Departure on our dive boat to one of the Koh Tao dive sites, briefing
9 am — 10 am: Third training dive
11 am — 12 pm: Fourth training dive
12 pm — 1 pm : Lunch, briefing
1 pm — 2 pm: Fifth raining dive
3 pm — 5 pm: High-speed catamaran ferry from Koh Tao to Koh Samui
5 pm — 6 pm: Transfer to your hotel
Continuing diving education
After completing the PADI Advanced Open Water Diver course you will get a credit towards the relevant PADI specialty courses. You can also continue improving your skills by completing Emergency First Responder courses and the PADI Rescue Diver course.
"SCUBA BIRDS" REVIEWS
Short video reviews
60 sec., 4 reviews and 5 satisfied customers
More Reviews & Video on Youtube
TripAdvisor Reviews
Professional and friendly
We took a refresher course and 2 fun dives with Dominik and loved it. Dominik is highly professional, calm, and detailed oriented. He made us feel at ease and safe. I'd highly recommend... Read more
Great Experience
Have literally just dived here today and what a lovely time we had! Took on the introduction dive and fully plan on a 2 day course at some point. Dima was great at organising everything over whatsapp... Read more
Family Friendly
Scuba birds was fantastic. We took our two children, 13 and 10 (already certified) for a fun dive off Koh Tao. The staff were extremely professional, safety oriented and child friendly. The dives were extremely well managed... Read more
❮
❯
Why "Scuba Birds" Dive Center?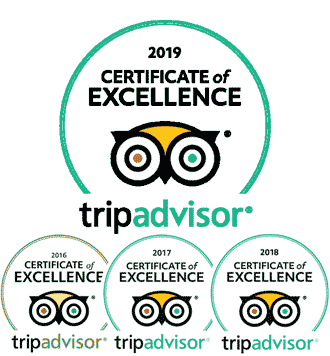 Scuba Birds Dive Center have 99% positive reviews on the TripAdvisor
TripAdvisorTravelers' Choice Award 2016-2020, 2023 (More than 600 reviews )
The highest PADI 5-star IDC Dive Center International Rating
Own big and comfortable diving boat, compressor, first aid kit, emergency oxygen - all for your safety and comfort
All range of PADI Courses from beginner to PADI Instructor
Small groups

Experienced PADI Instructors

Special discount for online booking
Professional and friendly PADI Instructors Team
Open since 2007