Diving Koh Tao - COVID-19 special discount up to 38%
Due to Covid-19 pandemic, the "Scuba Birds" PADI 5-star IDC Dive Center on Koh Tao offers special prices for 2020-2022. Book diving now and get up to 38% discount on PADI Courses and diving programs. No deposit and prepayment required!
Diving  Koh Tao, discount up to 38% - More info >>

PADI Adventure Diver Course on Koh Tao island
Koh Tao PADI Adventure Diver Course — underwater adventures to be continued!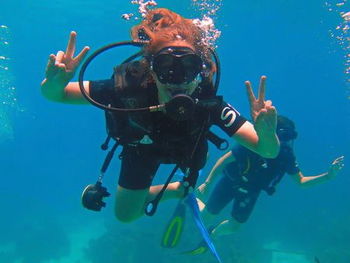 Learn new underwater adventures, such as deep dive (up to 30 meters), night dive and wreck dive.
About PADI Adventure Diver Course
Duration: from 1 day
Minimum age: 12 years
Prerequisites: absence of any medical conditions and you must hold the PADI Open Water Diver certificate or its equivalent
Regular price: ฿7,500
Book now: ฿6,480
Discount: 14%
PADI Adventure Diver Course Pascages in Koh Tao:
Attention!
During Covid-19, prices for packages with accommodation are also reduced. Contact us for the latest information
- 5 packages with and without accommodation
- 20 accommodation options in three different hotels
See the packages details
Choose the best option for you and save up to 2,900 THB!
The cost of the PADI Adventure Diver Course includes:
Training materials (digital manual and dive tables)
International PADI Diver Certificate
Equipment Rental
Tea, coffee, fruits and light snacks on our dive boat
Free WiFi on the boat & classrooms
Insurance
Additionally in packages:
Accommodation in a fan or air-conditioned room or bungalow 
Underwater photo/video (Package includes an additional SD card with your underwater photos/short videos from two last dives in open water)
What does your training for PADI Adventure Diver course include?
Theoretical part
The theory section is quicker compared to the PADI Open Water Diver course. You will need to read through 3 relevant chapters of the PADI Advanced Open Water Diver manual and complete the knowledge reviews related to those chapters. Before each adventure dive you will also receive a detailed briefing.
Practical part
You will complete 3 training dives and on each of those you will need to perform several skills underwater.
The full list of possible adventure dives is the same as for the PADI Advanced Open Water Diver course.
PADI Adventure Diver course — detailed description
Continuing diving education
After completing the PADI Adventure Diver course you will receive a credit towards your PADI Advanced Open Water certification. You also can get a credit towards the corresponding PADI specialty courses.