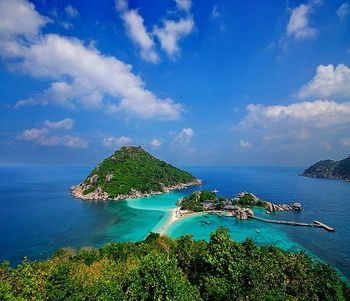 Diving Koh Tao - Scuba Diving and PADI Courses on Koh Tao Island
Scuba Diving and PADI Courses on Koh Tao — PADI 5 Star IDC Diving Center «Scuba Birds»
Koh Tao Island is the most popular diving resort in Thailand! On a tiny island which is no more than 7 km long, there are more than 120 diving centers, and tens of thousands of people become certified divers every year.
Why is scuba diving on Koh Tao so popular?
The lowest prices for fun diving and courses in Thailand are on Koh Tao Island
The cost of diving in Koh Tao is the lowest in Thailand. Just compare the prices of scuba diving programs on Koh Tao with other resorts in Thailand. The dive sites are diverse. More than 30 dive sites are available for scuba diving around the island of Koh Tao, including 3 shipwrecks. Such variety of dive sites is difficult to find anywhere else in Thailand.
Simple and convenient logistics
Dive sites are located in close proximity to the island and the journey takes an average of 20–30 minutes. So even going for a couple of dives will leave you enough time to enjoy your favorite beach and explore the island.
Magnificent nature
Koh Tao is called the «Pearl of Thailand». For several years the island was included into the TOP 10 of the most beautiful islands of the world according to the travel website company, TripAdvisor.
Excellent climate
More than 300 sunny days a year, and a short monsoon season, lasting from mid-November to mid-December.
Book your diving with Scuba Birds now and get a special price!
PADI Courses with accommodation - 20 options in 3 different hotels 
Choose the best option for you!
Discover Scuba Diving (Introduction dive) — 2,500/3,500 THB (1 or 2 dives)
PADI courses for beginners  — from 8,500 THB
PADI continuing education courses — from 8,000 THB
Diving for certified divers — from 720 THB