Diving Koh Tao - COVID-19 special discount up to 38%
Due to Covid-19 pandemic, the "Scuba Birds" PADI 5-star IDC Dive Center on Koh Tao offers special prices for 2020-2022. Book diving now and get up to 38% discount on PADI Courses and diving programs. No deposit and prepayment required!
Diving  Koh Tao, discount up to 38% - More info >>

PADI Rescue Diver Course on Koh Tao island - the most interesting diving course
Koh Tao PADI Rescue Diver course - is one of the most interesting diving courses, and probably the most useful one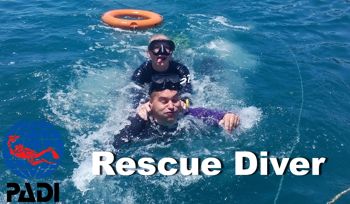 The PADI Rescue Diver course is another step in your diving education. Before you learned how to plan and dive while learning various underwater activity. Now it's time to deepen your knowledge and skills with PADI Rescue Diver course, during which you will learn how to assess the risks associated with diving, practice useful self-rescue skills, learn how to anticipate and prevent potentially dangerous situations.
Together with your instructor you will learn how to:
Quickly and efficiently search for and locate a missing diver using an underwater search pattern.
Act in situations with a panicked and unconscious diver both on the surface and underwater
Provide rescue breathing in the water, prevent dangerous situations both on the surface and during the dive and much more.
About PADI Rescue Diver Course
Duration: from 3 days
Minimum age: 15 years

Prerequisites: absence of any medical conditions and you must have the PADI Advanced Open Water Diver certificate or its equivalent and valid Emergency First Response certificate.
Regular price: ฿10,000
Book now: ฿8,250
Discount: 18%
 PADI Rescue Diver Course Packages in Koh Tao:
Attention!
During Covid-19, prices for packages with accommodation are also reduced. Contact us for the latest information
- 5 packages with and without accommodation
- 20 accommodation options in three different hotels
See the packages details
Choose the best option for you and save up to 4,700 THB!
The cost of the Rescue Diver Course includes:
Training materials (digital manual and dive tables)
International PADI Diver Certificate
Equipment Rental
Tea, coffee, fruits and light snacks on our dive boat
Free WiFi on the boat & classrooms
Insurance
Additionally in packages:
Accommodation in a fan or air-conditioned room or bungalow 
Underwater photo/video (Package includes an additional SD card with your underwater photos/short videos from two last dives in open water)
What does your training for PADI Rescue Diver course include?
Theoretical part
Your theoretical part of the course will begin with watching the training video and reading through the PADI Rescue Diver manual. You will discuss all the key points with your PADI instructor and complete 5 knowledge reviews and a final exam.

Practical part confined water
During one of the days you will practice all of the self-rescue and rescue skills in confined water. Some self-rescue skills are from your PADI Open Water Diver course, others will be completely new to you and will teach you how to deal with an emergency case.

Practical part, open water
You are going to repeat the skills that you learned earlier in an environment which is close to real case scenarios.
You will learn how to recognize and prevent emergencies and provide assistance to distressed or unconscious divers.
You will complete that practical training with «Rescue scenarios». During those your instructor will simulate certain emergencies and you will need to successfully accomplish the rescue procedures. This training and mastering the skills will bring you to the level of a confident rescue diver, who is able to rescue at any time.
PADI Rescue Diver course — a detailed description of the course and an approximate timetable.
Continuing diving education
The next step in your continuing education is to become a PADI Master Scuba Diver. This is the highest level of recreational diving. You can also become a PADI professional which will allow you to work in the diving industry after completing the PADI Divemaster course. PADI specialty diver courses could be your other option in continuing your diving education.