Diving in Koh Samui Island - Transfer to the dive sites
Diving Koh Samui — transfer from your hotel to Koh Tao and back by a comfortable high-speed catamaran — Lomprayah!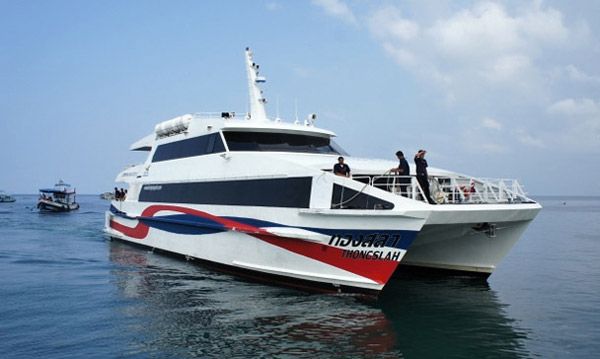 All Dive trips and Diving Courses on Koh Samui with our Dive Center include Transfer from your hotel on Koh Samui to dive sites located near Koh Tao and Koh Nang Yuan Islandsand back. Our partner is Lomprayah High-Speed Ferries Co., Ltd. which was established in 1996. It operates a unique fleet of high-speed catamaran ferries service from Koh Samui to Koh Phangan, Koh-Tao and the mainland of Thailand. Lomprayah High-Speed Ferries is the first and the only fast ferry operation in Thailand, giving you a journey that provides speed, style and service. The company has 7 high-speed ferries which are «Pralarn», «Namuang», «Maenam», «Koh Prab», «Thongsala», «Maehaad», «Thapdaorai».
Two and three decked high-speed catamarans can take on board from 200 to 380 passengers and they adhere to high international safety standards. It is the fastest and most comfortable way of traveling between Koh Samui, Koh Phangan and Koh Tao islands. The cruising speed of the ferries is 45 km / h, so traveling between the islands does not take much time.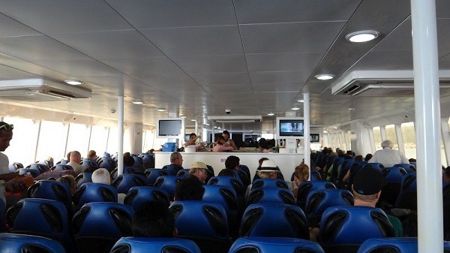 The spacious passenger ferries are equipped with air conditioning, flat-screen TVs and bar with snacks and drinks. Toilets with shower and sun deck are available on the board. Some ferries have VIP and «First Class» salons, which can be used for a surcharge of 100 and 250 THB, respectively.
A high-speed ferry to Koh Tao departs from Lomprayah Pralan Pier which is located on Mae Nam beach.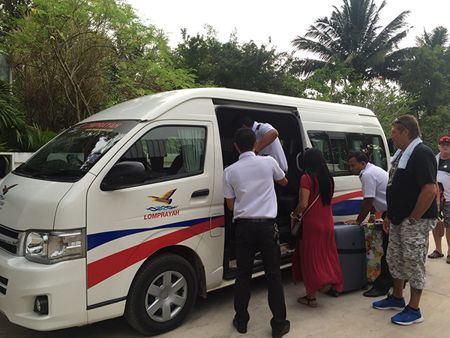 There is a transfer service available from your hotel to the pier and back by a minivan.
For those who would like to reach the pier on their own, we can offer 200 THB (per person) discount from the course fee or other Dive Trips.
The distance between Koh Samui and Koh Tao is 65 km and the trip will take about 2 hours.
Transfer timetable between Koh Samui and Koh Tao:
6:30 am — 6:45 am: The minivan will pick you up from your hotel
7:15 am — 7:30 am: You will arrive at the Lomprayah pier and check-in for the trip to Koh Tao
8 am: Departure to Koh Tao
8:30 am: First stop at Koh Phangan
9:30 am: Second stop at Koh Nan Yuan
10 am: Arrival at Koh Tao
Transfer timetable between Koh Tao and Koh Samui
2:30 pm — 2:45 pm: Check-in for trip from Koh Tao to Koh Samui
3 pm: Departure from Koh Tao
4:30 pm: First stop at Koh Phangan
5 pm: Arrival at Koh Samui
5:15 pm: Transfer from Lomprayah pier to your hotel by minivan