Diving in Thailand for good health!
In Scuba Birds dive center, located on Koh Tao and Ko Samui Islands, you can try a variety of programs for diving training.
From the PADI Discover Scuba Diving trial to the PADI Open Water Diver certification and above. Before your first dive, you will be asked to fill out a medical questionnaire containing a list of diseases for which the diving activity is prohibited or not recommended. If there are doubts about health, there is an opportunity to visit a doctor (the clinic is located in 10 minutes by walk from the dive center in Koh Tao), where you will be examined by specialists and issued a certificate of permission or prohibition for diving. The most dangerous diseases: asthma, epilepsy, narcolepsy, claustrophobia. Otitis, frontal sinuses, sinusitis are diseases that should be treated with caution, as there is a possibility that you can not equalize the pressure in the air cavity during dive.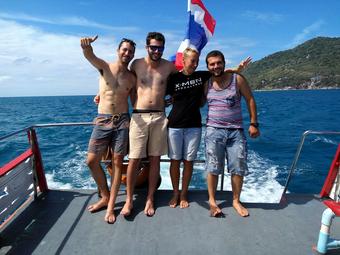 There are no absolutely healthy people, but diving is available for most. After all, positive emotions are necessary for everyone. Diving in Koh Tao and Koh Samui is a great pleasure, but in addition, diving is also a sport. Do it on a light program or professionally, as you think the best: [mx_youtuber type="video" id="9XnMdzatQa4" display="title,date,channel,description,meta"]