Learn to dive in Thailand — PADI Open Water Diver course in Ko Tao and Ko Samui Islands
Diving in Thailand — the PADI Open Water Diver course is the most popular diving course in the world!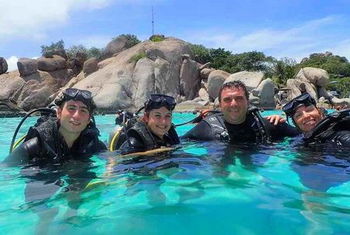 Many divers started their journey with the PADI Open Water Diver course. After completing this course you will be able to plan and dive with your partner to a depth of 18 meters anywhere in the world!
In fact, all continuing education diving courses ensure a deepening of knowledge and improvement of the skills gained during your PADI Open Water Diver course.
PADI Open Water Diver course in Thailand on Koh Tao and Koh Samui Islands — book at a special price!
Duration: 3 days
Prerequisites for the course:
The minimum age is 10 years
Absence of medical conditions (Download medical form)
Price:
PADI Open Water Diver course on Koh Samui — 11 500 THB
PADI Open Water Diver Course on Koh Tao — 11,000 THB
Prices are valid only when you book on our website!


What does your training for the PADI Open Water Diver course include?
Theoretical part
You will need to read through 5 chapters of the PADI Open Water Diver manual, which can be supplemented by watching 5 parts of the training video. After that you will need to complete 5 knowledge reviews, 4 quizzes and a final exam relating to the 5 chapters you studied.
After each theoretical block you will work together with your instructor on any unclear or difficult parts of the theory.
You can study the theory yourself if this way is more convenient for you.

Practical part — confined water*
From simple to complex! Your training will begin in the confined water* at a depth of about 1.5 meters. First, under the guidance of a PADI instructor, you will practice basic skills that will teach you how to clear water from your regulator and mask and use an alternative air source provided by your buddy.
You will also learn the basic skills associated with controlling your buoyancy, setting up the equipment, assisting tired divers and much more.
We will move from simple basic skills to more complex ones. After the session in the confined water you will feel comfortable and safe underwater and know how to use your equipment, so that knowledge will make your dives interesting and safe. You will also learn to solve potential problems which might occur during the dive. In total you will learn about 35 different skills.
*Confined water is a general term that refers to either a swimming pool or an open water site that offers swimming pool-like conditions with respect to clarity, calmness and depth. It has both shallow water and water sufficiently deep to allow student divers to meet all skill performance requirements.

The practical part — open water
Within the PADI Open Water Diver course during the next 2 days you will complete 4 dives in the open water, demonstrating previously learned skills in conditions that replicate real dives. At the end of each dive you will take an underwater excursion and enjoy the underwater world of tropical coral reefs.
We will schedule your course considering your wishes.
Continuing diving education
After completing the PADI Open Water Diver course, you can move on. PADI Adventure Diver or PADI Advanced Open Water Diver courses are the next step for you!
After completing the PADI Open Water Diver course, you can also choose from a variety of PADI specialty courses.