Diving Koh Phangan - COVID-19 special discount up to 30%
Due to Covid-19 pandemic, the "Scuba Birds" PADI 5-star IDC Dive Center on Koh Phangan Island offers special prices. Book diving now and get up to 30% discount on PADI Courses and Diving Tours. No deposit and prepayment required!


Diving  Koh Phangan, discount up to 30% - More info >>

PADI Discover Scuba Diving on Koh Phangan — an introduction to Scuba Diving
At the moment one day Diving Tour to Koh Tao Island temporary is not available. Apologies for any inconvenience.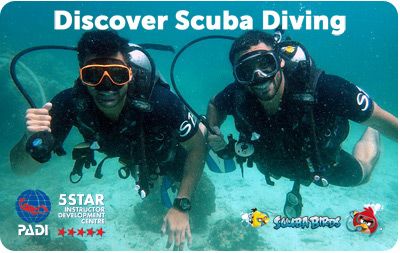 Koh Phangan PADI Discover Scuba Diving program
Try diving program on Koh Phangan Island - is an excellent opportunity to open the wonderful world of scuba diving and to explore the beauty of tropical coral reefs and underwater life.
All dives will be conducted at the best dive sites of Koh Tao and Koh Nang Yuan Islands, where you can fully enjoy the beauty below the surface in the Gulf of Thailand.
This program is designed for people with zero scuba diving experience but who would like to discover an amazing underwater world of scuba diving.
Duration: One day
Minimum age: 10 years
Max depth: Not more than 12 m. (40ft.)
Prerequisites: absence of any medical conditions (download medical statement here)
Regular price: ฿4,250
Book now: ฿3,490
Discount: 18%
The price of the PADI Discover Scuba Diving program includes:
2 Dives
Equipment rental
Lunch, tea, coffee, fruits and snacks on the boat
Diploma (certificate of recognition)
*Non-diving friends and/or family members can also accompany you on this trip. We also offer snorkeling tours - ฿1,600.
What are you going to do on your PADI Discover Scuba Diving program?
Theoretical part
You will listen to a detailed briefing by your PADI Instructor, during which you will learn the basic knowledge related to the physics and physiology of diving and safety techniques. You will also become familiar with the equipment used for dives and see the skills you will need to perform.
Practical part
You will have to complete 5 mandatory skills at a depth of no more than 1.5 meters under the guidance of your PADI Instructor. Once you are done with the exercises, your instructor will give you an underwater tour.
When you rest up, you will make another dive with your instructor, to a depth of no more than 12 meters.
The duration of each dive will be approximately 40–45 minutes (excluding the time required for skills practice).

PADI Discover Scuba Diving — detailed description
PADI Discover Scuba Diving program schedule from Koh Phangan
8–00 Check in to Koh Tao on Thong Sala Pier, Koh Phangan
08–30 — 10–00 High-Speed Catamaran "Lomprayah" from Koh Phangan to Koh Tao island
10–00 — 10–15 Meeting with your instructor on Koh Tao
10–15 — 11–00 Departure to dive sites, dive briefing
11–00 — 12–00 First dive
12–00 — 13–00 Rest, lunch on the dive boat, briefing before the second dive
13–00 — 14–00 Second dive
15–00 — 17–00 Back way transfer from Koh Tao to Koh Phangan island
Continuing Scuba Diving Education
Upon completing the PADI Discover Scuba Diving program you will receive a certificate of recognition, which is not a full scuba diver certification.
If you would like to continue your education and get your PADI Scuba Diver or PADI Open Water Diver certificate, the Discover Scuba Diver experience can be credited towards your PADI Scuba Diver or PADI Open Water Diver courses.