Diving Koh Phangan - COVID-19 special discount up to 42%
Due to Covid-19 pandemic, the "Scuba Birds" PADI 5-star IDC Dive Center on Koh Phangan Island offers special prices for 2020-2021. Book diving now and get up to 42% discount on PADI Courses and diving programs. No deposit and prepayment required! Prices are valid valid until September 1, 2021


Diving  Koh Phangan, discount up to 42% - Get more info >>

Diving on Koh Phangan Island - PADI Courses and Diving Tours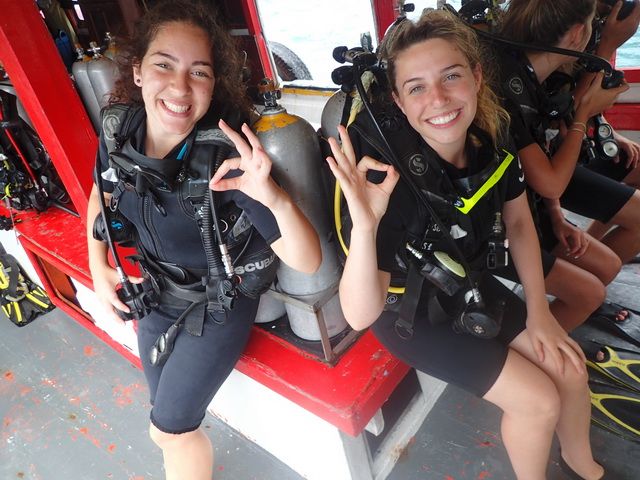 Diving on Phangan - Dive Trips to Koh Tao Island and PADI Diving Courses
Scuba Diving on Koh Phangan
Diving on Koh Phangan with Scuba Birds 5 Star IDC Diving Center is an excellent opportunity to meet an amazing underwater world of the Gulf of Thailand and to get your first PADI diver certificate.
Koh Phangan (Phangan, เกาะพะงัน) - is one of the islands in Samui archipelago which includes Koh Samui, Koh Phangan, Koh Tao and Angthong Marine Park located in Suratthani province. The island can be reached by ferry from the mainland and the nearest islands. White sand beaches, tropical nature attractions and Full Moon Party, a monthly dance music festival, attract tourists from all over the world. Koh Tao Island, located just 35 kilometers away from Phangan, is one of the most beautiful islands in South-East Asia and the number one diving destination in Thailand.
«Scuba Birds» is a PADI 5 Star IDC Dive Center offering diving on Koh Phangan.
«Scuba Birds» PADI 5 Star IDC Dive Center has the highest PADI 5 Star rating among PADI dive centers. We have been open in Koh Tao, Samui and Koh Phangan since 2007. Despite not running our "real" booking office on Koh Phangan, we provide dive tours and diving courses on this island via online booking. During these years, thousands of people completed their diving courses, got fantastic first-time diving experience or diving tours for certified divers.
What makes us different from other diving schools on Koh Phangan?
There are No "Home reefs"! Very often, dive centers on Koh Phangan offer "home reef diving." These dive sites are located around the island, close to the shore and there is not much to see. It makes diving cheap but not such as diving on Koh Tao's dive sites. We offer only dive sites around Koh Tao Island - the best diving spot in Thailand. No "home reefs" anymore!
Accommodation on Koh Tao Included! The price for all PADI courses includes accommodation on Koh Tao. You will get your PADI certificate and enjoy a couple of days staying on this amazing island! High-speed Lomprayah catamaran ferry Phangan - Koh Tao - Phangan tickets are included in the dive course price as well.
Experienced and professional team of PADI Diving Instructors. General manager of "Scuba Birds" Dive Center has the status of a Gold PADI Course Director which guarantees a high level of international diving standards and safety for our students.

Koh Phangan PADI Scuba Diving Courses
Diving Courses for beginners from ฿9,900
We teach all PADI scuba diving courses from beginner to PADI Professional. All practical applications (confined water and open water dives) are conducted on dive spots of Koh Tao Island. To save your time and minimize the inconvenience of every day traveling between islands we included accommodation on Koh Tao:
PADI Scuba Diver (2 days) - ฿11,500 ฿9,900. Save 14%!
PADI Open Water Diver (3 days) - ฿13,500 ฿12,200. Save 10%!
PADI Open Water Referral (2 days) - ฿11,500 ฿9,900. Save 14%!
Diving Courses for certified divers from ฿9,200
These courses are designed for people already having their diving certificates but wish to continue dive education, gain more experience in theory and in practice, to dive deeper and safer.
PADI Adventure Diver (2 days) - ฿10,500 ฿9,200. Save 12%!
PADI Advanced Open Water Diver (2 days) - ฿12,500  ฿11,200. Save 10%!
PADI Rescue Diver (3 days) - ฿12,500 ฿11,200. Save 10%!
Price for all PADI courses on Koh Phangan includes:
Training materials on your language
International PADI diver E-certificate
Equipment rental
Tea, coffee, fruits and snacks on the boat
Logbook (for beginners courses only)
Insurance
Divind Tours on Koh Phangan from ฿2,690
We offer one-day and two-days diving tours for beginners and experienced divers from Koh Phangan to Koh Tao's most favorite dive sites. Any other duration of the tour is available on request, just ask us.
Why is it better to stay in Koh Tao? There are 30 dive spots around Koh Tao, including 3 Shipwrecks. The average time to get any dive site is just about 20 minutes. The way from Phangan takes more than 2 hours. To save your time on traveling and spend more time on actual diving, we highly recommend you to stay on Koh Tao for the course duration.
Dive tours on Koh Phangan for beginners and certified divers
Try diving program (2 dives) - ฿4,250 ฿3,690. Save 13%!
Dive tour for certified divers (2 dives) - ฿3,250 ฿2,690. Save 17%!
Two-days dive tour for certified divers (from 4 dives) - ฿5,800 ฿4,900. Save 16%!
Price for dive tours on Koh Phangan includes:
Equipment rental
Tea, coffee, fruits and snacks on the boat
Insurance
Accommodation on Koh Tao (two-days tour only)
Why "Scuba Birds" Dive Center?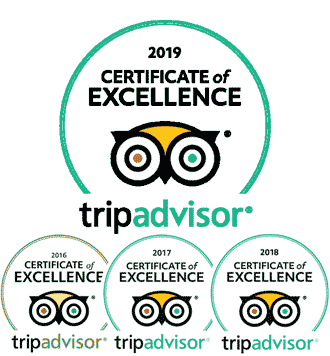 Scuba Birds Dive Center have 99% positive reviews on the TripAdvisor
We can't get reviews on Tripadvisor for Koh Phangan because we don't use the actual sales office on this island. Please check reviews of our Dive Centers on Koh Tao and Koh Samui Islands

Brewster88
London, United Kingdom / 140 contributions / 41 helpful votes

Great Experience
Have literally just dived here today and what a lovely time we had! Took on the introduction dive and fully plan on a 2 day course at some point. Dima was great at organising everything over whattsapp, very efficient! Our instructor Zaeed was excellent, very patience and made sure we were safe. Will be back again! Read Review
Trip type: Traveled with friends
Read more than 300 Excellent reviews on TripAdvisor 
---

Accommodation Included!


Accommodation in a room or bungalow. 
Wooden or concrete bungalow, located in Mae Haad, quiet place, 20 meters to the beach for swimming, snorkeling and sunset watching. Five minutes to the main pier area, shops and restaurants.
Extra night ฿500 only!
Accommodation in air-conditioned room.
Excellent Seaview room in Blue Diamond resort, right on the nice sandy beach with a huge balcony for gorgeous Koh Tao's sunsets watching. For your convenience an excellent swimming pool and restaurant on site. Quiet area, surrounded by garden, just five minutes to the main pier area.
Extra night ฿800 only!