Diving Koh Phangan - COVID-19 special discount up to 42%
Due to Covid-19 pandemic, the "Scuba Birds" PADI 5-star IDC Dive Center on Koh Phangan Island offers special prices for 2020-2021. Book diving now and get up to 42% discount on PADI Courses and diving programs. No deposit and prepayment required! Prices are valid valid until September 1, 2021


Diving  Koh Phangan, discount up to 42% - Get more info >>

PADI Diving Courses on Koh Phangan Island with accommodation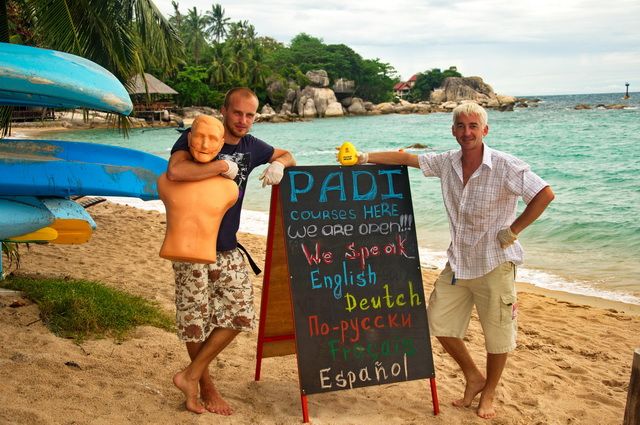 Scuba Diving on Koh Phangan — PADI diving courses for beginners and experienced divers 

Scuba Diving on Phangan - "Scuba Birds" Diving Center offers all PADI diving courses from beginner to PADI Scuba Diving Instructor, PADI Specialty courses and PADI Tec Diving courses.

Diving courses PADI for beginners - for people who want to make the first step in diving and to discover an amazing underwater world. Get your first PADI Diver certificate in just 3 days.

Continuing education PADI Scuba Diving courses - for divers who already have an entry-level certificate and want to extend the basic diving limits, to get experience on new dive sites and to improve diving skills.
Price for all PADI courses includes:
Transfer by Lomprayah high-speed catamaran to Koh Tao and back
Training materials on your language
Accommodation on Koh Tao for the duration of the course
International PADI diver E-certificate
Equipment rental
Tea, coffee, fruits and snacks on the boat
Logbook (for beginners courses only)
Insurance


PADI Diving Courses on Koh Phangan Island for beginners
PADI Discover Scuba Diving Program
PADI Discover Scuba Diving program on Koh Phangan - it's an introduction to scuba diving on Koh Phangan. This program is not a diving course, you will not get a PADI Diver certificate, however, you can get your Diploma (Certificate of recognition). This program was designed for people who have zero scuba diving experience or who had but didn't complete a scuba diving course. PADI Discover scuba diving experience can be credited towards your PADI Scuba Diver or PADI Open Water Diver courses, including the price, within 30 days after the program.

Maximum depth: 12 m. (40 ft)
Minimum age: 10 years
Number of dives: 2 dives
The cost of the program: ฿4,250
Book now: ฿3,690 save 14%
PADI Scuba Diver Course
PADI Scuba Diver course - two-days course for beginners. The course includes theory part and practical application. After completing the course you receive a PADI Diver certificate. This course is suitable for those who plan to dive not very often, a few times a year, for example.

Maximum depth: 12 meters
Minimum age: 10 years
Duration: 2 days
Number of dives: 3 confined water + 2 open water dives
The cost of the program: ฿11,500
Book now: ฿9,900 save 14%
PADI Open Water Diver Course
PADI Open Water Diver Course - the most popular diving course in the world! Three days dive course. Upon completing this course you will be able to plan and execute your dive with a dive buddy to the maximum depth of 18 meters anywhere in the world. The difference with PADI Scuba Diver course is more theory and more practical applications (dives in confined and open water). The best choice for beginners!

Maximum depth: 18 meters
Minimum age: 10 years
Duration: 3 days
Number of dives: 5 confined water + 4 open water dives
The cost of the program: ฿13,500
Book now: ฿12,200 save 10%
PADI Open Water Referral Course
PADI Open Water Referral Course - for those who started dive training earlier. Did you successfully complete the entire theoretical part and all confined water skills of the PADI Open Water Diver course? Do you have a Referral Form issued by a PADI instructor? Now you can complete your training on PADI Open Water Diver course with us.

Maximum depth: 18 meters
Minimum age: 10 years
Duration: 2 days
Number of dives: 4 open water dives
The cost of the program: ฿11,500
Book now: ฿9,900 save 14%
PADI courses for certified divers on Koh Phangan
PADI Adventure Diver Course
PADI Adventure Diver Course - underwater adventures to be continued! Do you have a Diver's certificate already? Complete three training dives, for example, Deep dive (up to 30 meters), Night dive and Wreck dive, and PADI Adventure Diver certificate is yours. You receive a credit towards your PADI Advanced Open Water Diver Course as well.

Maximum depth: 30 meters
Minimum age: 12 years
Duration: 2 days
Number of dives: 3 dives
The cost of the program: ฿10,500
Book now: ฿9,200 save 12%


PADI Advanced Open Water Diver Course
PADI Advanced Open Water Diver Course - next level. Complete 5 specialized adventure dives, including Deep dive (up to 30 meters), Underwater Navigation Dive, Night dive, Wreck dive, etc. and get the new level of your diving experience - PADI Advanced Open Water Diver certificate. This certificate will give you access to about 90% of the dive sites around the world!

Maximum depth: 30 meters
Minimum age: 12 years
Duration: 2 days
Number of dives: 5 dives 
The cost of the program: ฿12,500
Book now: ฿11,200 save 10%

Emergency First Response Course
Emergency First Response Course - first aid training. During this course you will learn how to act in emergency situations and to provide primary care, CPR, first aid. This course is not a diving course! However, this course is a prerequisite for the PADI Rescue Diver course.

Duration: 1 day
The cost of the program: ฿4,000
PADI Rescue Diver Course
PADI Rescue Diver Course - is another step in your diving education. It's one of the most exciting and useful diving courses. You will learn how to assess the risks associated with diving, practice useful self-rescue skills, learn how to anticipate and prevent potentially dangerous situations underwater and on the surface. At the end of the course you will complete the practical training with «Rescue scenarios». During those your instructor will simulate specific emergencies and you will need to accomplish the rescue procedures.

Minimum age: 15 years
Duration: 3 days
Number of dives: 5 dives
The cost of the program: ฿12,500
Book now: ฿11,200 save 10%
PADI Master Scuba Diver
PADI Master Scuba Diver - the "Black Belt" in diving.. To receive PADI Master Scuba Diver certificate you have to hold PADI Rescue Diver certificate, have at least 50 logged dives and 5 PADI specialty course certifications.

Minimum age: 15 years
Duration: on request
The cost of the program: on request