For certified divers - 2 days

Diving Koh Samui Two-Day Diving Tour for certified divers
Koh Samui Two-day Divng Tour with accommodation for certified divers
This program is the best option for those who wish to do a few dives during their stay on Koh Samui. Unlike the 1-day dive tours, during the 2-day tour you will be able to visit a few more different dive sites and the price for diving will be lower.
About Two-Day Diving Tour to Koh Tao
Number of dives: 4 (optional up to 6, including night dive)
Minimum age: 10 years
Restrictions: minimum certification level — PADI Scuba Diver or equivalent
Regular price: ฿6,900 / 4 dives
Book now: ฿5,500 / 4 dives
Discount: 20%
Share your experience with your friend for ฿5,100 each!
*We guarantee the lowest prices for diving on Koh Samui! If you find a better price than ours, for a similar offer, we will give you an additional discount!
Two Days Diving Tour includes:
4 dives
Equipment Rental
Dive guide (PADI Instructor)
Tea, coffee, fruits, and snacks on the boat
Insurance
Additional dives:
Day dive: ฿700  / per dive
Night dive: ฿1,000  / per dive
Two Days Diving Tour schedule from Koh Samui Island
First day
6:30 am — 6:45 am: Transfer from your hotel to the Lomprayah high-speed catamaran pier
8 am — 10 am: Lomprayah high-speed catamaran trip from Samui to Koh Tao
10 am — 10:15 am: Meeting your instructor on Koh Tao and departing for a diving day on our dive boat
10:15 am — 11 am: Briefing before the dive
11 am — 12 pm: First dive
12 pm — 1 pm: Rest on the dive boat
1 pm — 2 pm: Second dive
2:30 pm: Return to Koh Tao, check-in to your room, free time
6 pm — 8 pm: Night dive (optional)
Second day
7 am: departing with morning dive boat (time subject to change)
You will be able to do 2 or 3 dives, depending on the schedule
12:30 pm: Return to Koh Tao, free time
2:30 pm: Check in at High-speed catamaran
3 pm — 5 pm: High-speed catamaran transfer from Koh Tao to Samui
5 pm — 6 pm: Transfer to your hotel.
"SCUBA BIRDS" REVIEWS
Short video reviews
60 sec., 4 reviews and 5 satisfied customers
More Reviews & Video on Youtube
TripAdvisor Reviews
Professional and friendly
We took a refresher course and 2 fun dives with Dominik and loved it. Dominik is highly professional, calm, and detailed oriented. He made us feel at ease and safe. I'd highly recommend... Read more
Great Experience
Have literally just dived here today and what a lovely time we had! Took on the introduction dive and fully plan on a 2 day course at some point. Dima was great at organising everything over whatsapp... Read more
Family Friendly
Scuba birds was fantastic. We took our two children, 13 and 10 (already certified) for a fun dive off Koh Tao. The staff were extremely professional, safety oriented and child friendly. The dives were extremely well managed... Read more
❮
❯
Why "Scuba Birds" Dive Center?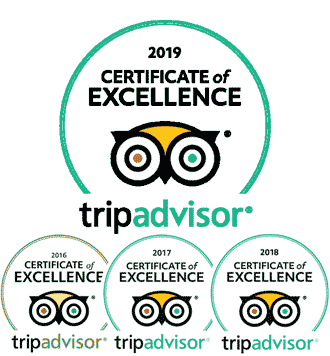 Scuba Birds Dive Center have 99% positive reviews on the TripAdvisor
TripAdvisorTravelers' Choice Award 2016-2020, 2023 (More than 600 reviews )
The highest PADI 5-star IDC Dive Center International Rating
Own big and comfortable diving boat, compressor, first aid kit, emergency oxygen - all for your safety and comfort
All range of PADI Courses from beginner to PADI Instructor
Small groups

Experienced PADI Instructors

Special discount for online booking
Professional and friendly PADI Instructors Team
Open since 2007