Dive sites around Koh Tao and Koh Samui: Chumphon Pinnacle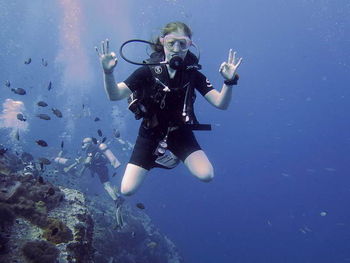 Chumphon Pinnacle is the most impressive dive site around Koh Tao and the second only to Sail Rock as the best site in the Gulf of Thailand.
Ranging from the depth of 14m to 45m, a site is a group of few massive granite pinnacles running north to south. The top of the main huge pinnacle is carpeted in Magnificent anemones, full of Pink Anemonefish. Other smaller pinnacles surround the main pinnacle. The rocks form various plateaus and ledges covered in hard and soft coral, sea whips, gorgonian sea fans and barrel sponges. Crabs, shrimps, White-eyed moray eels hide in the numeral crevices.
Head North West, passing between two smaller pinnacles and you will see a large overhang, on the far side of the bigger rock at around 21-22m. Here you will find several huge Marble Groupers.
On South West is another large collection of rocks known as Barracuda Rock because of huge schools of Yellow-tailed and Chevron Barracudas can be seen while navigating around the rock.
Big-eye Jackfish,Trevallies, Snappers, Rabbitfish, King Mackerels are numerous.
Whale sharks are a common visitor here, you might get really lucky and see two on one dive:-)
Great visibility most of the year, marine life abundance, good location — just about 40 minutes boat ride from Koh Tao makes Chumphon Pinnacle certainly the most popular with experienced divers and really good for PADI Deep Diver Specialty and PADI Tec training dives too.