Scuba Birds - Dive Boat Full HD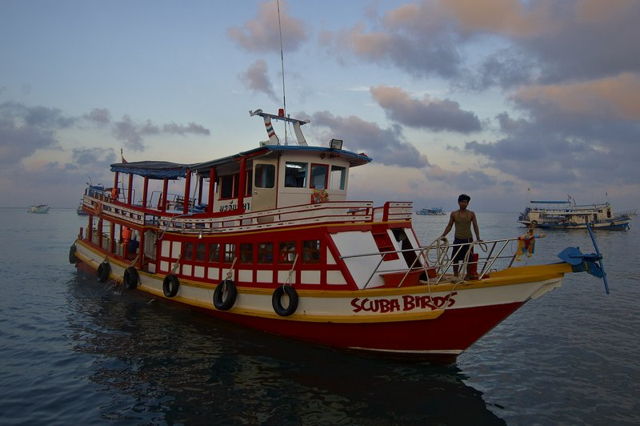 «Scuba Birds» dive boat is a fast and comfortable dive vessel.
Boat has two dacks,
72 ft. (22 meters) long, max speed 9 knots (17 km/h).
Max capacity of the boat is 30 passengers.
Two fresh water shower,
European style toilet.
Dry deck is suitable for keeping all your belongings dry.
Sun deck constructed for chilling on them sun and provides drinks and snacks.
On the top deck there is a shade arya as well.
On the lover deck you can find dive and nice jump deck.
Boat was built in 2007 in Suratthani province, Thailand. It's a wooden boat with one Hino diesel engine 320 h.p.
For divers needs it has also 5 Kw Hino generator and Coltrysub compressor.
Captain's cabin equipped with radio station, GPS navigation and sonar.
First Aid kit and Emergency Oxygen located on the lower deck.
Boat crew includes 2 persons: Captain (P' Naa) and a boat boy.